The panda bear we sent, doesn't she look thrilled?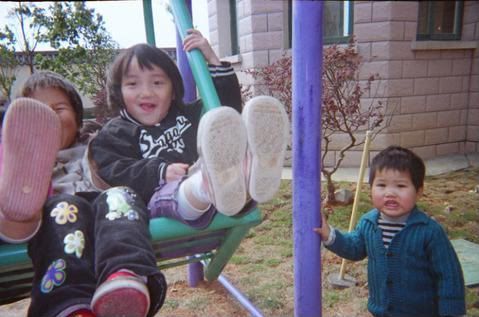 This just made me laugh out loud! Mark says she is saying, hey, I want to swing to!
Enjoying the candy we sent to China!

Mavery on left, Autumn in the middle, who is now home!
These came from a disposable camera that my friend had sent for her daughter. (the one who got us the pictures last week!) She helped me send a package at the time back in March/April. So we are hopeful to get our camera back when we meet Mavery. Another mom is in China now and is visiting the orphanage RIGHT NOW! So I am hopeful to have even more photo's tomorrow! SOOO thankful for these little glimpses of her, they keep reminding me that God does love us, and He does have a plan here. Of course we wish His plan was that we were leaving tomorrow! But we continue to trust in His timing while enjoying the gifts He continues to send us through pictures.